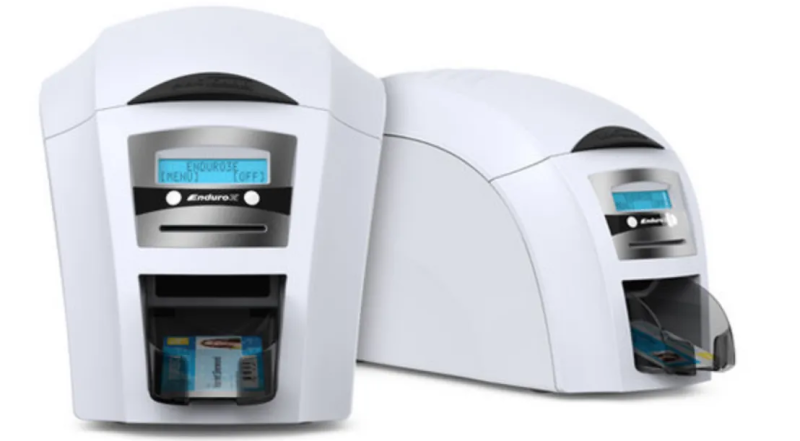 Magicard Enduro3e ID Card Printer
The Enduro3E has now been discontinued and replaced by the Magicard 300.
If you are looking for a similar printer, we recommend viewing the new replacement for the Enduro3e, the Magicard 300 ID Card Printer. The Magicard 300 is available at a similar price point. The Magicard 300 offers greater print quality, speed and security amongst other features.
Ideal for schools, colleges and medium sized businesses.
The Enduro3E ID Card printer can be ordered in a single or double-sided print format. For added flexibility, a simple drop-in upgrade is available for customers whose needs change from single to double-sided cards. The Enduro3E offers magnetic stripe, smart card or combi encoding options and HoloKote visual security in 4 watermark designs.
Features:
Suitable for up to 10,000 cards per year
Print speed of up to 100 cards per hour in full colour and over 500 in monochrome
Dye sublimation printing and thermal transfer, rewrite print technology
ICC colour enhanced prints
Robust, durable and built to last
100 card input hopper and 30 card output hopper
Hand feed capability
2 line LED display control
Windows and Mac OS X compatible
Quick and easy – Do It Yourself – on site upgrade from single to double sided printing
Magnetic stripe and smart card encoding upgrade options available
USB and Ethernet interface
Enhanced security options including 4 patented Holokote® watermark options
Prints on to HoloPatch® cards
3 Year Warranty** with comprehensive telephone and online support
Flexible printing options
Print in full colour, in large batches, with ease using the 100-card feeder or print individual cards or rewritable cards with the hand-feed card slot at the front.  Rewrite technology allows you to reuse cards again and again by 'printing' the personalisation using thermal transfer technology, whereby the surface of the card changes colour due to the heat applied.  When the card is no longer required simply run the card through the printer again to remove the personalisation and it's ready to be used again.
Adaptable
Now with USB and Ethernet interfaces as standard, the Enduro3E is easy to install and easy to use. Driver compatibility includes Windows 8, 10 and 10.1, as well as Mac OS X.
Secure
All cards printed on the Magicard Enduro3E can be secured with a HoloKote® anti-fraud  watermark.  Exclusive to all Magicard printers, HoloKote, is a patented technology that can print a secure watermark on every card.  The Enduro3E is supplied with four pre-defined watermarks that can be easily selected from the printer driver.  To print a customised watermark, upgrade to the Magicard Rio Pro or the Helix.
  HoloKote®

A standard anti-counterfeiting watermark printed in a grid pattern across the entire card surface.  The Enduro3E HoloKote features 4 standard designs.

  HoloPatch®

HoloPatch cards have a highly reflective gold 'super diffuser' foil square that enhances the visibility of the overprinted  HoloKote logo.
For additional electronic security, both magnetic stripe and smart card in-line encoding options are available.
  Magnetic Stripe

The Enduro3E can be upgraded to encode ISO standard 7811 HiCo and LoCo mag stripe cards.

 Smart Card encoding

Smart card encoding is possible through an upgrade to the Enduro3E printer to allow the encoding of contact chip, MIFARE®, DESFire and iClass.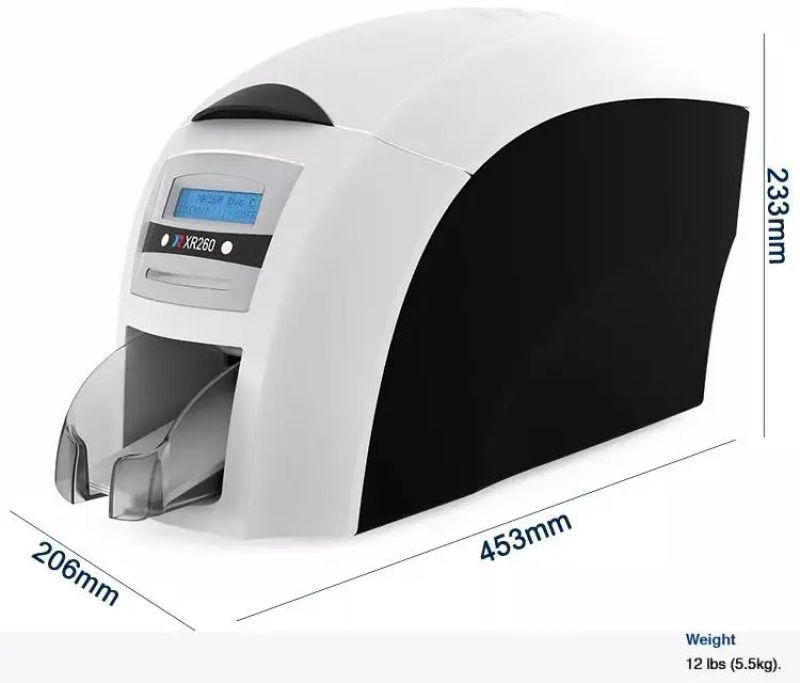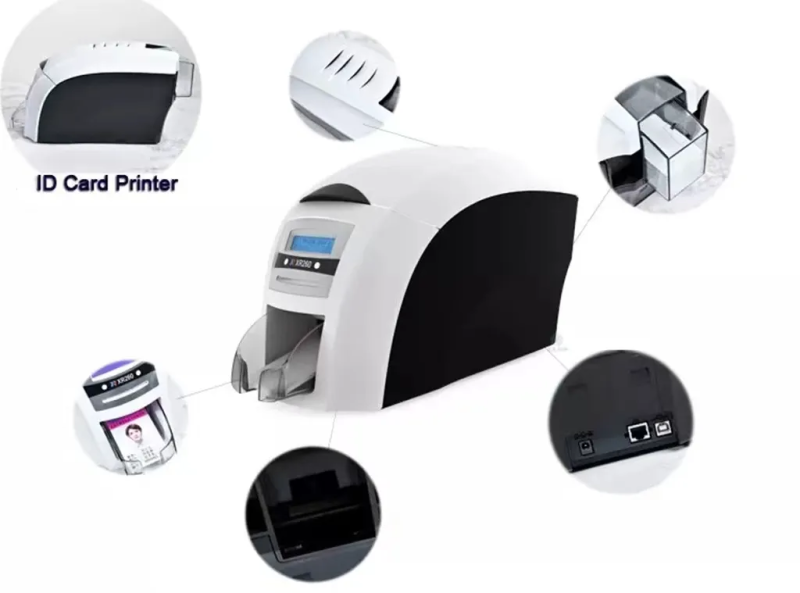 Enduro3E ID Card Printer Features and Specifications

  Print technology
  Color dye sublimation

Monochrome thermal rewritable

  Print resolution
  300 dots per inch
  Print speed
  Up to 100 cards per hour for colour and over 500 cards per hour for monochrome
  Card capacity
  Automatic feed: 100-card input hopper and 30 card output hopper
  Compatible Card Dimensions
  ISO CR80 85.6mm x 54mm  ISO CR70 83.9mm x 51mm

Card thickness 0.51mm – 1.02mm / 20mil to 40mil

  Visual security
  The user has the option to print a HoloKote® security watermark across the card surface. When used with      HoloPatch® cards, one area of the HoloKote watermark is highlighted as a high visibility security seal. A choice of 4    fixed HoloKote patterns are selectable from the printer driver.
  Card encoding options
  Magnetic stripe encoding: HiCo and LoCo encoder ISO 7811 – tracks 1, 2 and 3

Smart card encoding: Contact chip, MIFARE, DESFire and iClass.

  Printer Dimensions
  453mm L x 206mm W x 233mm H (17.8" L x 8.1" W x 9.2" H) including hopper and stacker
  Weight
  12lbs / 5.5kg
  Printer interfaces
  USB rev1.1 (USB 2.0 compatible), Ethernet
  Software drivers
  Windows 2000 Professional (SP4), XP, Vista, 7, 8, 8.1 & 10 (32/64 bit compatible), Server 2003 R2 SP2, 2008    (32/64 bit compatible) and Mac OS X
  Power source
  External power supply 100-240V 50-60Hz autoranging
  Warranty
  3 years limited depot warranty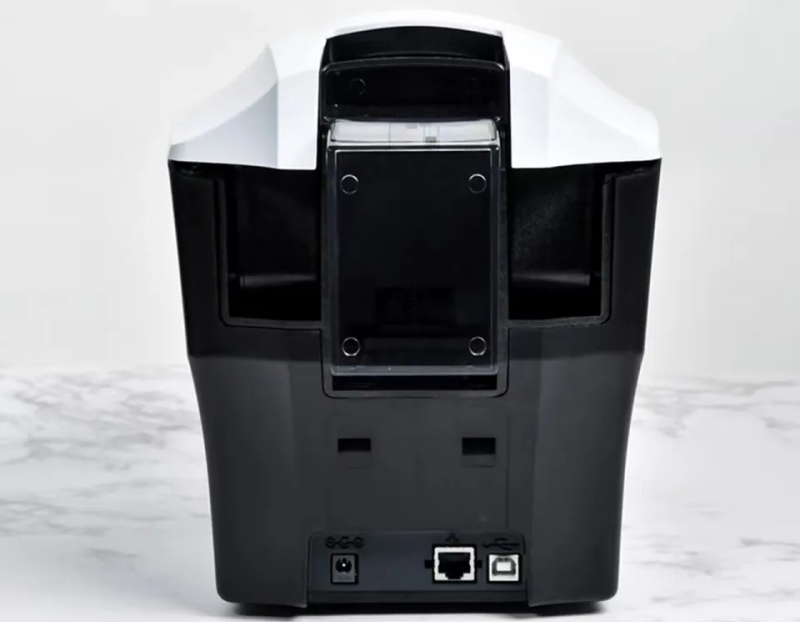 All Magicard Enduro3E Models

  Single-Sided
  Enduro3E Uno
  Magicard Enduro3E single-sided ID card printer
  3633-3001
  Enduro3E Mag
  Magicard Enduro3E single-sided ID card printer with magnetic stripe encoder
  3633-3002
  Enduro3E Smart
  Magicard Enduro3E single-sided ID card printer with smart card encoder
  3633-3005
  Enduro3E Smart Mag
  Magicard Enduro3E single-sided ID card printer with smart card encoder plus magnetic stripe encoder
  3633-3006
  Double-Sided
  Enduro3E Duo
  Magicard Enduro3E double-sided ID card printer
  3633-3021
  Enduro3E Duo Mag
  Magicard Enduro3E double-sided ID card printer with magnetic stripe encoder
  3633-3022
  Enduro3E Duo Smart
  Magicard Enduro3E double-sided ID card printer with smart card encoder
  3633-3025
  Enduro3E Smart Mag
  Magicard Enduro3E double-sided ID card printer with smart card encoder plus magnetic stripe encoder
  3633-3026
  Field upgrade options
  Double-sided upgrade
  Upgrade the single-sided Enduro3E to the Enduro3E Duo