Walk-through metal detector gate with high sensitivity  for security check
Walk through metal detector, metal detector gate, security metal detector, walk through gate, security gate.
This high-performance security gate has the following advantages:High sensitivity metal detection; strong anti-interference ability; multiple detection areas, each area can be set up independently; self-diagnostic procedures, power-on self-inspection, eight high brightness LED display tubes; using high-strength materials, fire prevention, anti-corrosion, anti-seismic; real-time monitoring of background environmental interference.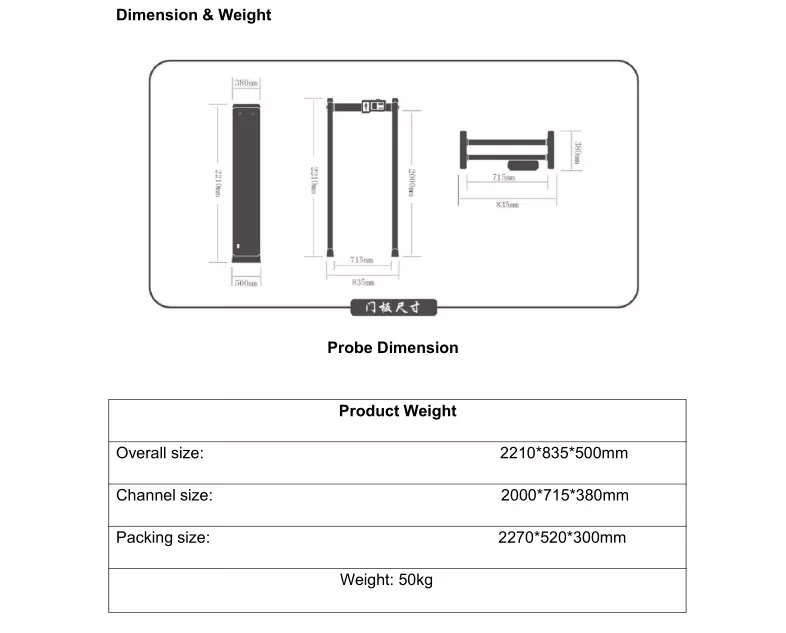 Technical Parameters:
Power Supply:220V/AC
Power:<30W
External Dimension:2210mm(Length)*835mm(Width)*500mm(Height)

PassagewayDimension:2000mm(

Length)*715mm(Width)*380mm(Height)
Work environment:-20℃- +45℃
Standard:GB15210(WALK THROUGH METAL DETECTOR)
Standard Configuration:
Main Case:One Unit
Beam:2 Units
Main Case Screws:2 Pcs
Power Line:One Unit
Screws:8 Pcs
Instruction: One Unit (Including Certificate of Quality & Guarantee Repair List)
Application:
Safety Inspection at Airport, Customs, Port and Station, etc.
Safety Inspection of Prohibited Metal Articles in Courts, Public Security, Prisons and Detention Houses

Entrance inspection of important public places, such as important places, exhibition halls, fairs, business and trade gatherings, celebrations, stadiums, etc.

Hardware, electronics, jewelry, coinage and other important industrial and mining enterprises to prevent the loss of precious metals
Entertainment venues such as nightclubs, theatres, ballrooms, concerts, bars, etc. prevent carrying metal articles
Governments, banks, postal services, hospitals, public buildings, schools, private luxury houses, etc. prevent the carrying of dangerous goods.
Inspection standard declaration:
Electrical appliances are executed according to EN60950 safety standard
Radiation reference EN50081-1 standard

Anti-jamming Reference to EB50082-1 Standard

Strictly Implement the Current National Standards for Walk-through Metal Detectors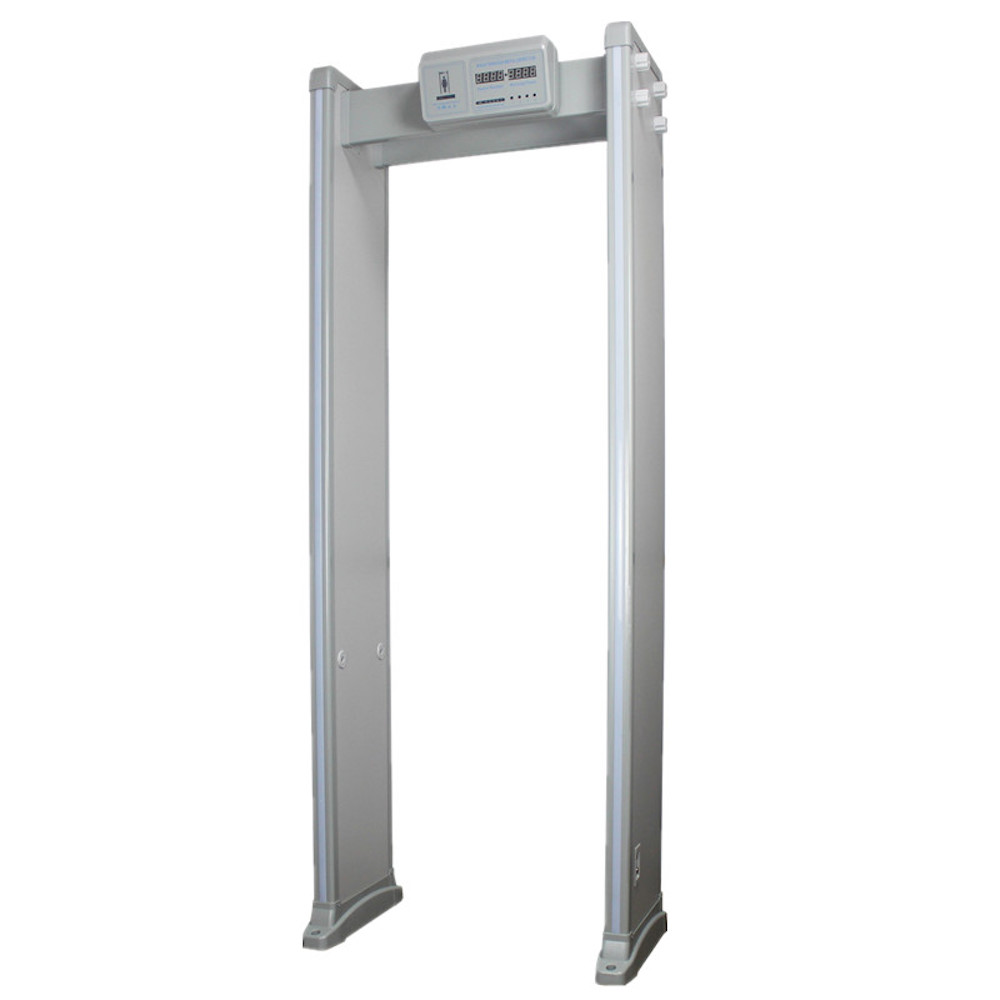 Features and functions
Multi-zones technology: 6/18 detection zones, the sensitivity of each detection zone can be arbitrarily adjusted.
LED Digital Technology: 8 digital display tubes, easy to operate and understand.

Super-strong Shell Protection Technology

: IP55 Superior Protection Performance.
Multigroup Infrared: Infrared devices adopt multi-group free switching technology.
Alarm function: Alarm lights, alarm sounds, arbitrary adjustment settings.
Detection technology: Uniform Detection Technology, No Blind Zone beyond Imagination.
Working frequency band: Extra-wide 50-level.
Sensitivity of Detection Zone: The maximum sensitivity of a single defense zone is 0-200.
Alarm mode: The system has a variety of alarm sound modes, which can be selected in different situations.
Interference hint: When the security gate works normally and stands by, it has several high brightness interference indicators.
Testing ability: 1 minute with more than 60-120 people passing the test ability.
Statistical data function: Intelligent passenger flow and alarm counter can calculate the number of people passing and alarm times.
Password protection: Only authorized person is allowed to operate.
Easy installation: Integrated design, Installation or disassembly can be completed in only 20 minutes, followed by operation instructions.
No harm to human body: It is harmless to human heart pacemaker, pregnant women, tapes, videotapes, etc.
Alarm volume: Volume is optional (mute, medium and high).
Location indicator: Front Bilateral Location Alarm Indicator.