Walk-through metal detector gate with high sensitivity  for security check
Walk through metal detector, metal detector gate, security metal detector, walk through gate, security gate.
This high-performance security gate has the following advantages:High sensitivity metal detection; strong anti-interference ability; multiple detection areas, each area can be set up independently; self-diagnostic procedures, power-on self-inspection, eight high brightness LED display tubes; using high-strength materials, fire prevention, anti-corrosion, anti-seismic; real-time monitoring of background environmental interference.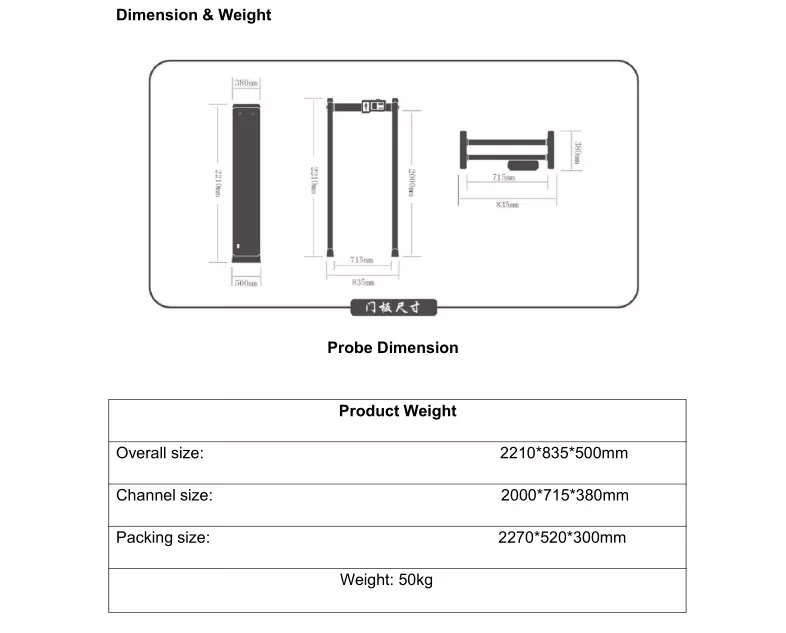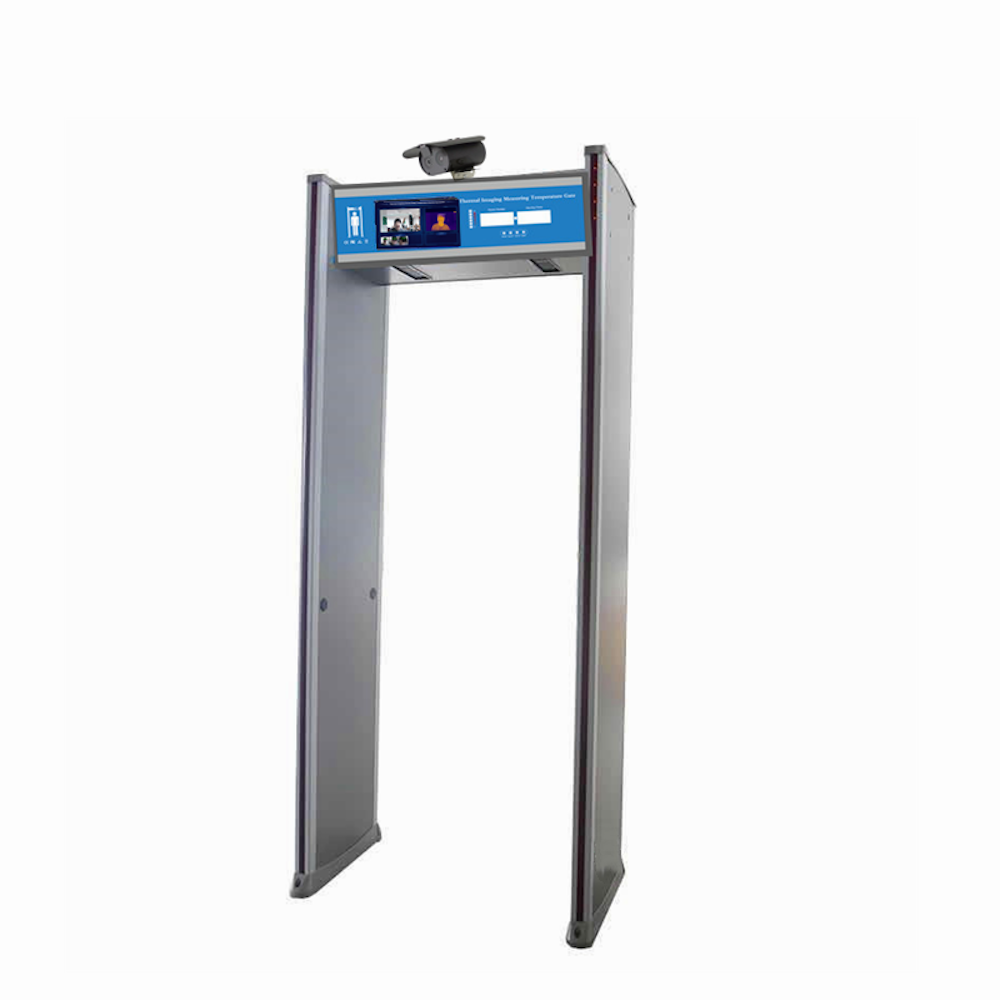 Product Features:
High sensitivity infrared camera;
Used for long-distance human body
temperature detection 1.5m~5m;

Camera + embedded motherboard + black body integrated structure, no need to configure a computer, directly connected to the monitor to display and various operations

;
Built-in black body, automatic correction, no fear of the influence of environmental temperature changes on thermal imaging;
Start-up, fast and convenient, accurate forehead temperature algorithm measurement, filter the background high temperature influence
Easily connect to the cloud for data analysis

The product integrates a high-sensitivity infrared camera, high-definition visible light camera, high-precision black body, high-performance temperature measurement engine, non-medical,

human Industrial intelligence drive, automatic alarm, visualization platform, high-precision thermal imaging detection system.
SD-DM60I is based on artificial intelligence algorithm and infrared thermal imaging temperature measurement technology. It can quickly check and warn people with fever symptoms in the crowd, and accurately display the highest temperature value. The equipment is widely used in large public places such as airports, stations, schools, hospitals, factories and shopping malls.
The system is equipped with automatic face recognition and capture, and can quickly detect the thermal temperature of the forehead in milliseconds, with an accuracy of 0.2°C. At the same time, SD-DM60I has an automatic temperature algorithm based on artificial intelligence technology, without on-site manual intervention, can accurately identify and count the number of people passing by, and quickly analyze and display the temperature of individual personnel.
Application:
Safety Inspection at Airport, Customs, Port and Station, etc.
Safety Inspection of Prohibited Metal Articles in Courts, Public Security, Prisons and Detention Houses

Entrance inspection of important public places, such as important places, exhibition halls, fairs, business and trade gatherings, celebrations, stadiums, etc.

Hardware, electronics, jewelry, coinage and other important industrial and mining enterprises to prevent the loss of precious metals
Entertainment venues such as nightclubs, theatres, ballrooms, concerts, bars, etc. prevent carrying metal articles
Governments, banks, postal services, hospitals, public buildings, schools, private luxury houses, etc. prevent the carrying of dangerous goods.
Quick Detection
Large streams of people can be measured and detected with in 0.05 seconds.
Sensitivity
The temperature resolution of the instrument can reach ±0.3℃, which is suitable for long distance in high volume traffic areas.
Discrete Measurement
Measurement can be carried out without the complete knowledge of the detected object.
Great User Experience
Mufti-visual presentation with strong curability, affinity, scientific, and technological capabilities.
 

Temperature Measurement

Measurement Range
20°c -50°c
Field Angle(Calculated Value)
40°C*30°C
Calibration
Self-Calibration
Measurement Distance
1.5-5m
Infrared Camera
Detector Type
Uncoiled Infrared Array Sensor
Resolution
160X120(384*288)
Pixel Pitch
17μm
NETD
≤60mk(F/1,300K, 50Hz)
Frame Rate
15 Hz
Temperature Measurement Data Output
Full Range Temperature Output
People Per Second
200 people in one minute
Visible Camera
Resolution
1920*1080(2 M>illion Pixels)
Imaging Device
1/2.7inch CMOS
Minimum Illuminance0.01
Lu(Color Mode),0.001Lux(Black and White Mode)
Signal to Noise Ratio
>56dB
Other Parameters
HAIRCUT Automatic Switching, Backlight Compensation,

Strong Light Suppression, Automatic White Balance

Black body
Effective radiation area
20mm*30mm
Effective emissivity
0.96 ±0.02
temperature range
(Ambient temperature+5°C)~(50°C)
Temperature resolution
0.01°C
Temperature stability
>±0.1°C/60min
Heating time
<2 minute
Motherboard parameters
SOC
Broad com BCM2711
CPU
64 bit 1.5GHz  4 core (28nm)
Blue/tooth
5.0
USB
USB 2.0*2/USB 3.0*2
HDMI
Micro HDMI*2 support 4K60
Powered by
Hype C(5V 3A)
Network
Wi-Fi 802.11AC,Gigabit
multimedia
H.265(4Kp60 decode)

H.264(1080p60 decode,1080p30 encode)

Opening es,3.0 graphics)

Other Parameters
Installation Environment
Indoor or Outdoor
Power Supply

5.5VDC

castellations Method
Support, Wall Mounting, Hoisting
Working Temperature
0℃~40℃
Size
L230mmxW142.6mmxH88.5mm
out packing size
L265mm*W270mm*H150mm
weight
1.8KG