Walk-Through Metal Detector
Portable gate management is a kind of lightweight, high performance security, the security of the metal detection sensitivity is higher, with the portable light, portable, waterproof, quality characteristics, has only one operator to carry it on to any location, and assembled in five minutes, and make it work properly, is ideal for the games, the metal detector door meeting, schools and other places.It is also easy to operate and completely portable, so it is easy to operate and can be used without any operation training. This product has obtained many appearance organization patents, and has obtained the software system registration copyright.This product is to use electromagnetic field to detect the detection structure of portable metal objects, to sound and light alarm to show that through the portable metal objects more than a certain amount.It consists of host, high frequency signal generator, signal receiver and infrared sensor.With beautiful appearance, strong metal detection ability, detection and defense area, unique Internet remote operation management system, lightweight, waterproof features, can be disassembled into 8 components, can be convenient to carry and transfer, is currently leading in the forefront of the portable security door.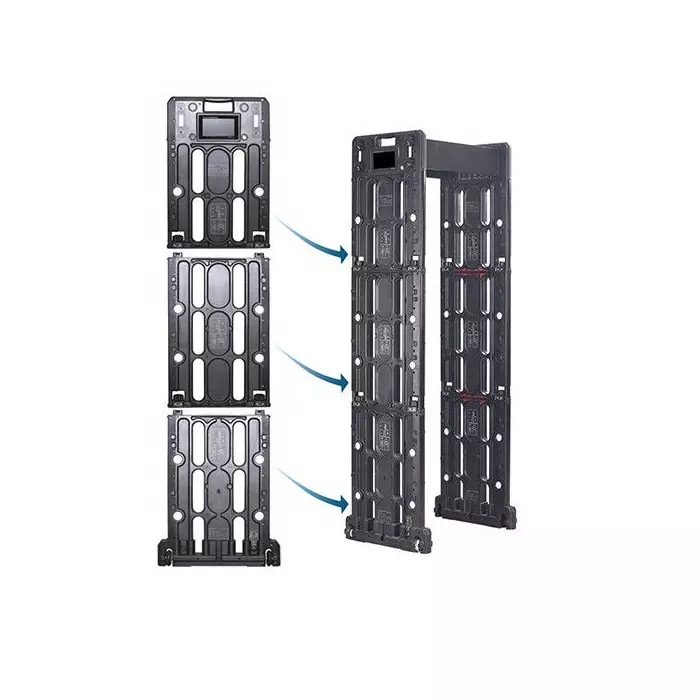 Technical Parameters

Product model

24 zones 7-inch touch screen Portable

Detection object

Forbidden object, magnetic metal

 External dimension

2250x850x500mm

 Aisle dimension

2051x710x500mm (width customizable 700~1500mm)

Fold dimension

889x606x484mm

 Packing dimension

948x666x525mm

Humidity

99%, non-condensing

Working environment

-20℃~60℃

Power supply

The whole system is equipped with polymer battery, life time 4, 8, 16, 24, 48, 72 hours(optional)

 Input

AC 110V~240V/50HZ~60HZ

 Output

DC 12V/5A 12W

Weight

N.W. 42KGS, G.W. 50KGS
Advanced Technology
● Multi-zone technology:24 Detection and defense zone can provide self-switching, intelligent partition (can provide more defense zone upgrade technology). ● Working frequency: large operating frequency range (0-100), and with the work environment adaptive function. ● Detect zone sensitivity:The sensitivity of a single zone can be up to 255 level adjustable. ● Mobile Internet technology: mobile APP remote control, zero distance in the world (optional). ●Super enclosure protection technology: IP54 superior protection performance (plus waterproof canopy selection). ● Adaptive diagnostic system: when starting up the system adaptive diagnostic detection hardware working
Product Advantage
7-inch HD LCD Touch Screen High-end Convenient more Intelligent 
● Adaptive debug system:The system can adjust to the test standard after debugging. ● Start and stop technology: infrared device with automatic start and stop technology, life extension 100 times. ● Sensitivity of each detection area can be adjusted arbitrarily (with adaptive adjustment technology)。 ● The detection and defense zones can be divided by themselves ● Sound、light alarm, alarm tones、alarm time can be adjusted arbitrarily。 ● Query function:The system has real-time information query function. ● Detectability:More than 100 people pass in 1 minute.